The Centre national de la musique (CNM) organises Jazz Export Days – an international networking event to showcase the diversity of the French jazz scene, in association with French festival Jazz sous les Pommiers in Normandy.

Initially taking place in May 2020, the Jazz Export Days have shifted to a digital networking event to adapt to the health crisis. 35 international music programmers are invited to discover 8 acts selected in 2020 and encompassing the diversity of the French Jazz scene.
The 8 acts performed on stage as part of the 40th edition of French festival Jazz sous les Pommiers last August – gathering about 436 fesival-goers and programmers at the Magic Mirrors venue (capacity: 220).
During this digital event, international programmers will meet the professional entourage of each act in online networking sessions.
Highlights of Jazz Export Days' showcases have been broadcasted on French national television and internet website Culturebox – ensuring a great exposure for the acts.
Listen to the Jazz Export Days Playlist curated by What the France :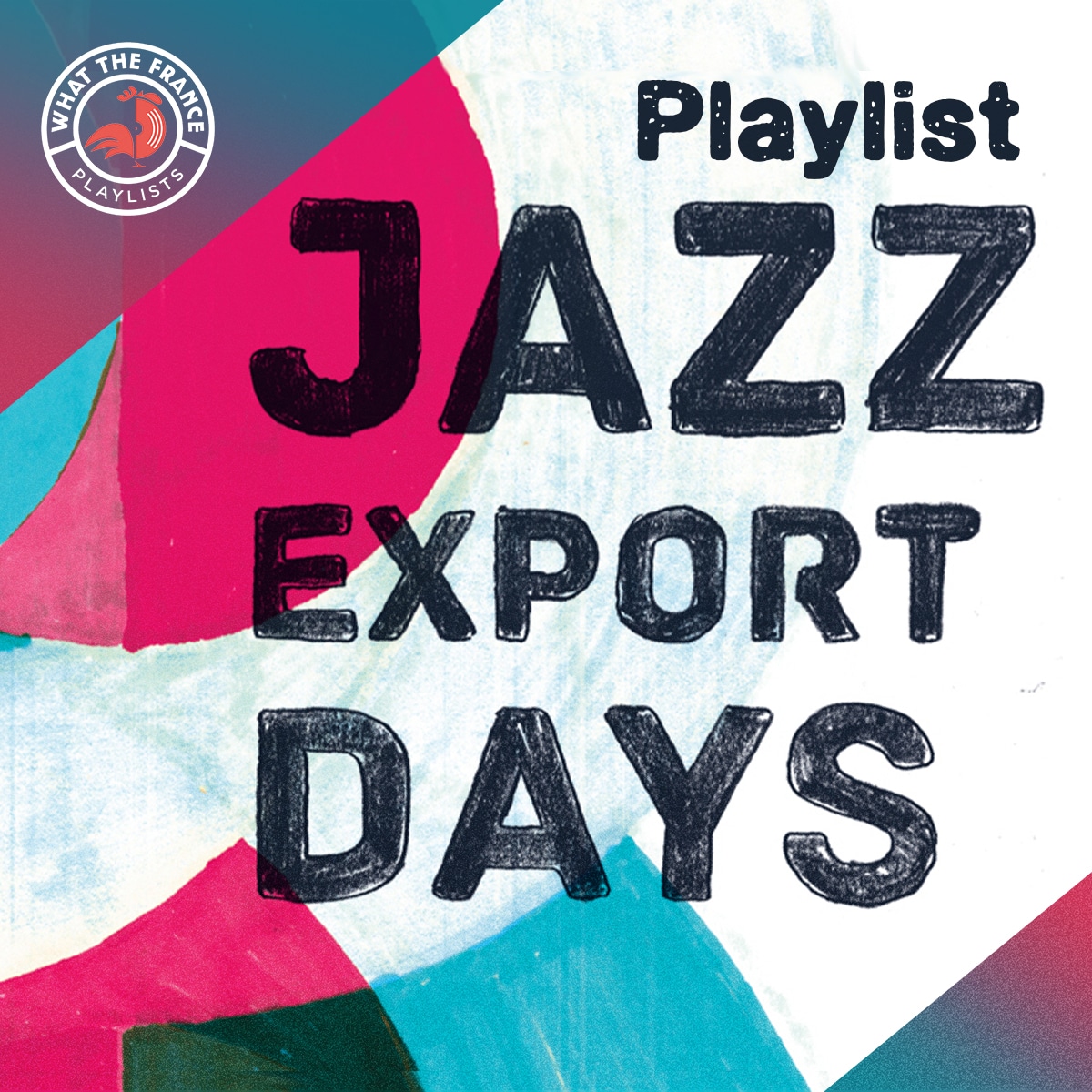 What The France is a recommendation brand operated by the CNM to shine a light on the finest music made in France.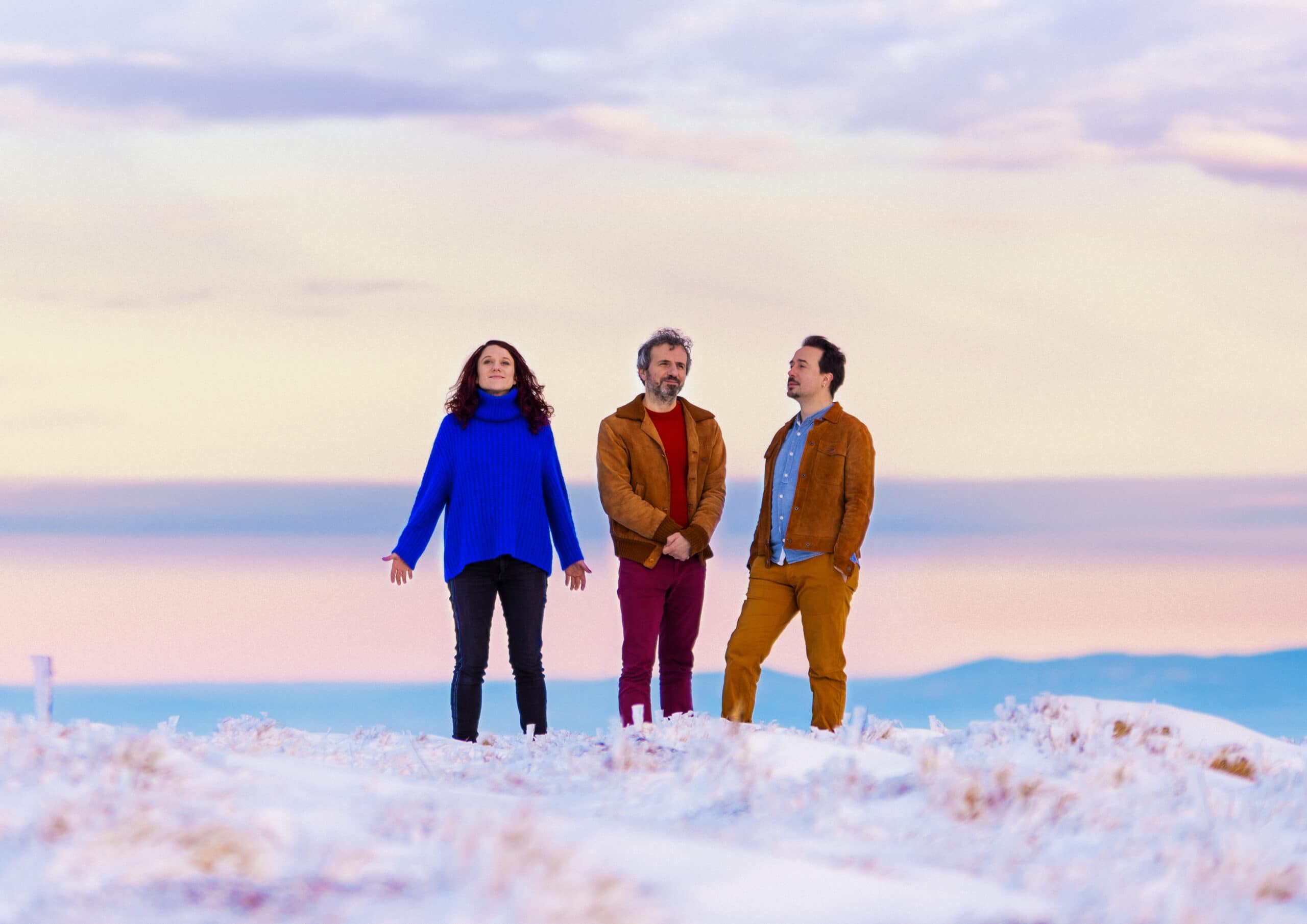 Line-up :
Leïla Martial: voice, glockenspiel
Pierre Teyregeol: guitar, vocals
Eric Perez: drums, human bass
Professional team :
Production: Colore/Orotone (Laurent Carrier Diffusion)
Booking: Laurent Carrier
Label: Laborie Jazz
Distribution: Socadisc / IDOL
Publishing: Métisse Music
Leïla Martial – Baa Box
Leïla Martial has become an experienced master of that most precious instrument: the voice. Her own is a vehicle for boundless creativity, a source of onomatopoeias which transforms and adapts itself to any soundscape. Whether belching, blowing, screaming or delicately accompanying the melody, Leïla Martial is a force to reckon with.
Her third album 'Warm Canto', released on Laborie Jazz, also owes its richness to the talents of her trio, with Pierre Tereygeol's feverish guitar solos and Eric Perez transforming rhythms into controlled waterfalls. 'Warm Canto' delivers the most subtle and unexpected twists, switching from an urgent madness to serenity, and was recognised with the award for Best Vocal Jazz Album of the Year 2019 by the French Academy of Jazz.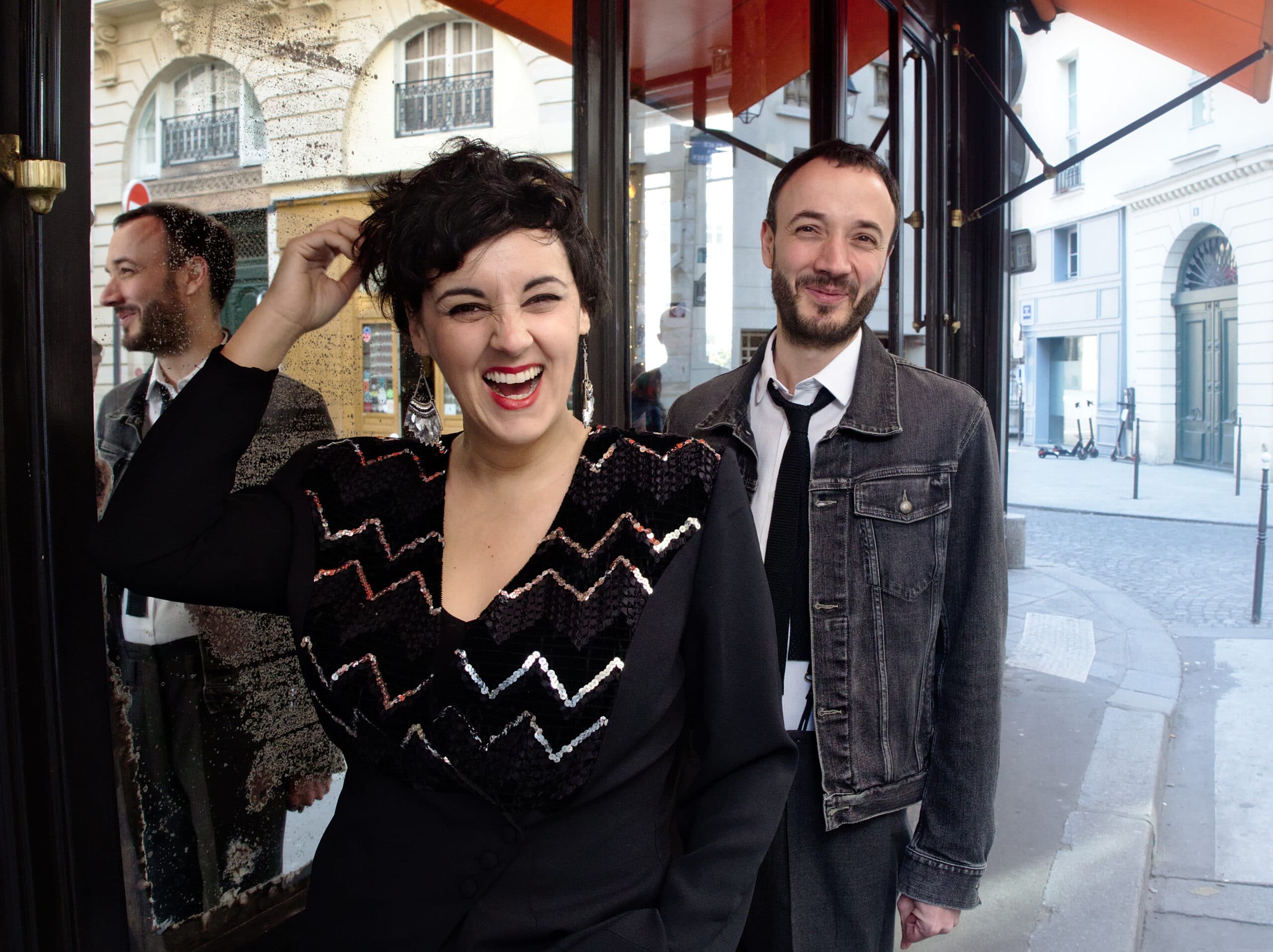 Line-up :
Marion Rampal: voice
Pierre-François Blanchard: piano
Professional team :
Marion Rampal & Pierre-François Blanchard – Le Secret
About the project:
When Alice went through the looking glass, at first, everything seemed strange to her. Then she got used to it.
'Le Secret' is a nostalgic, fanciful and sometimes funny invitation to look again at what seems well known, immutable, untouchable. It charts a path between Baudelaire's melancholia and the blues, with two respectful rebels that no music genre can imprison as guides. To make a jazz standard out of a Fauré melody or a Schubert song is to build a bridge across oceans and musical territories; bringing Verlaine closer to New Orleans. It's all possible when you master the codes of each different world to perfection. Marion Rampal and Pierre-François Blanchard are daring and unapologetic, taking all the risks like a couple of tightrope walkers, confident in every step. Their secret is special, bizarre, offbeat, a strange cocktail of poetry, classical music, humour and improvisation. They've been joined on this journey by two legendary musicians: Archie Shepp and Raúl Barboza. Welcome to Wonderland!
About Marion Rampal & Pierre-François Blanchard:
Jazz singer-songwriter Marion Rampal and pianist Pierre-François Blanchard are developing a common language of interpretation that challenges established codes.
Lovers of classical melody, Great Black Music, French popular songs, collaborators with jazz master Archie Shepp and seminal French songwriter Pierre Barouh, they are constantly looking for a poetic and sonic link that transcend styles and reveal the expressive heart of songs. With 'Le Secret' they invent new standards by exploring melodies of yesteryear, musical poems that are "deep mirrors" where the movements of the soul are reflected. Mirroring the composition of French Art Songs from the Belle Époque to Nouvelle Vague, this duo demonstrates an art of suspending time, following in the footsteps of the great jazz improvisers.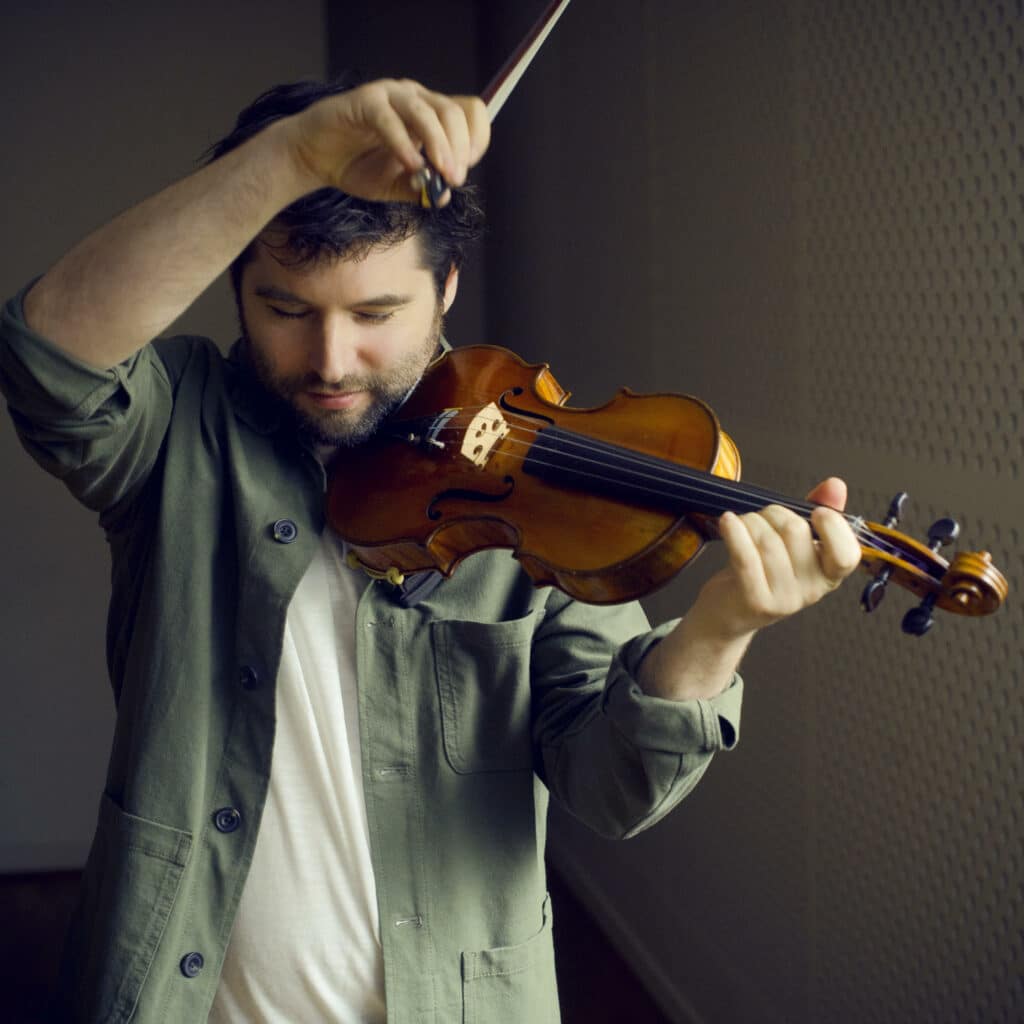 Line-up :
Mathias LEVY: violin, compositions
Jean Philipe VIRET: double bass
Sébastien GINIAUX: guitar, cello
Professional team :
Production: King of Montreuil (KOM), Claire Guidicelli
Booking / Manager: CC Prod, Pierrette Devineau
Label: Philharmonie de Paris & Harmonia Mundi
Distribution: PIAS
Publishing: Harmonia Mundi
Mathias Lévy – Unis Vers
Like his instrument, Mathias Lévy knows no boundaries. Having trained in classical studies, he left the beaten track for gypsy jazz. Determined and talented, he has developed and diversified rather than follow one single style, establishing himself as a new voice for the violin in France.
The title of his new album, 'Unis Vers' suggests a 'universe' of high quality counterpoint, synchronisation and harmony, a group with supreme equilibrium. The personal compositions in their repertoire are a blend of influences: classical and world music as well as the warmth of jazz chamber music.
The second album is the work of the same trio of musicians with whom Mathias Lévy has achieved a real sense of complicity over the years. They share the motivation to embrace traditional music in a broad sense while avoiding any kind of categorisation. For the past 20 years Jean-Philippe Viret, who in his youth accompanied Stéphane Grappelli, has created a whole world of musical sensitivity, close in spirit to that of pianist Edouard Ferlet. Alongside him, Sébastien Giniaux is a fine example of unblinkered musicians who can go from guitar to cello, slip into gypsy swing or take us on a journey to Africa, his abilities already showcased in his duets with the kora player Chérif Soumano. With this rich musical pedigree the group has forged a highly original sound that is rarely heard in French jazz groups. Freed of their earlier gypsy jazz influence, the trio merge polyrhythmic, creative and avant-garde improvisational techniques that place them firmly in the modern jazz scene.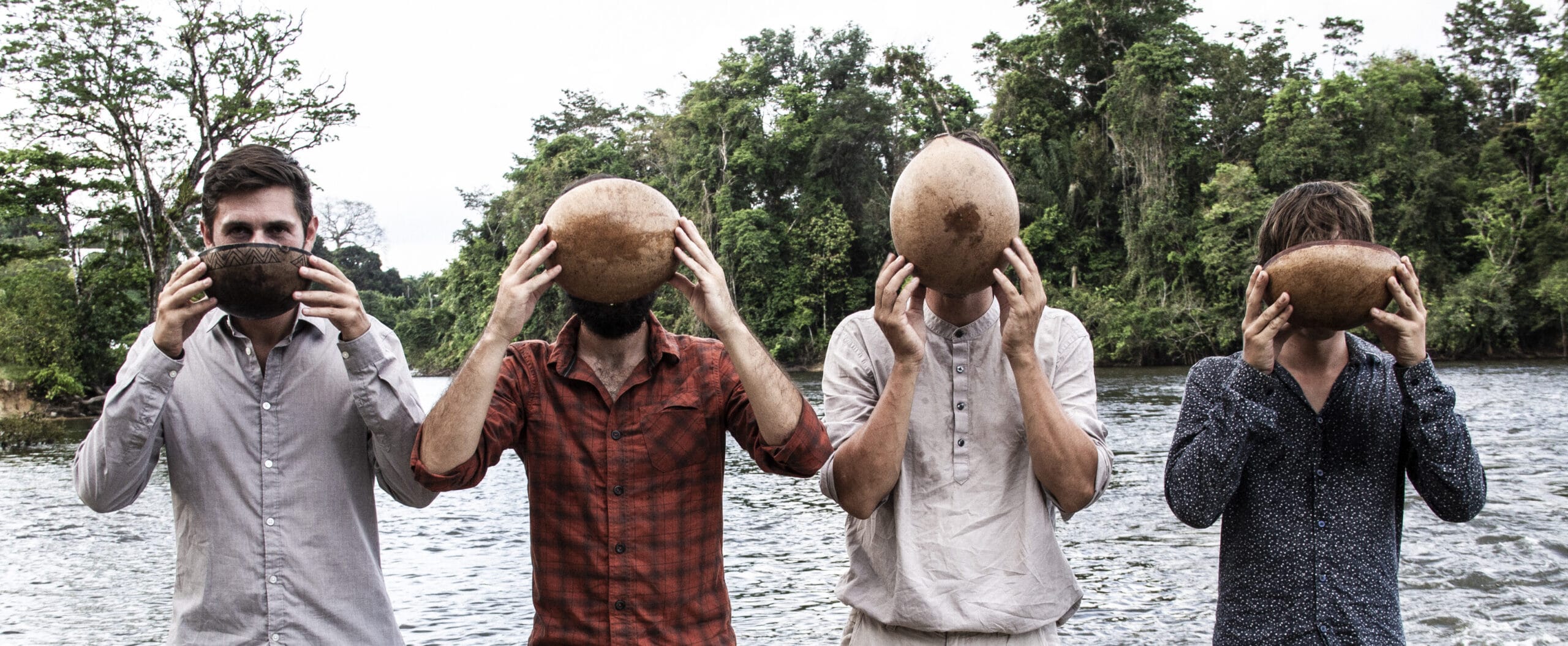 Line-up :
Ronan Prual: double bass
Ronan Courty: double bass & objects
Alan Regardin: trumpet & objects
Matthieu Prual: saxophones and bass clarinet
Professional team :
No Tongues – Les voies de l'Oyapock
About the project:
'Les Voies de l'Oyapock'is the result of a journey made in the summer of 2018 by No Tongues and their collaborators on the Oyapock, the river that marks the border between Brazil and French Guiana. The aim of the trip was to meet the Teko and Wayãpi people of the Amerindian villages of Camopi and Trois-Sauts. The work of sound collection and musical exchange was a rather intense human adventure carried out collectively in the depths of the Amazonian forest.
About the band:
No Tongues are four instrumentalists experimenting with sounds to give birth to raw, hypnotic and surprising re-creations. The quartet develops a working process based on orality, by the imitation, translation and integration of a model into a personal aesthetic. It is a dance with the past to illuminate the present.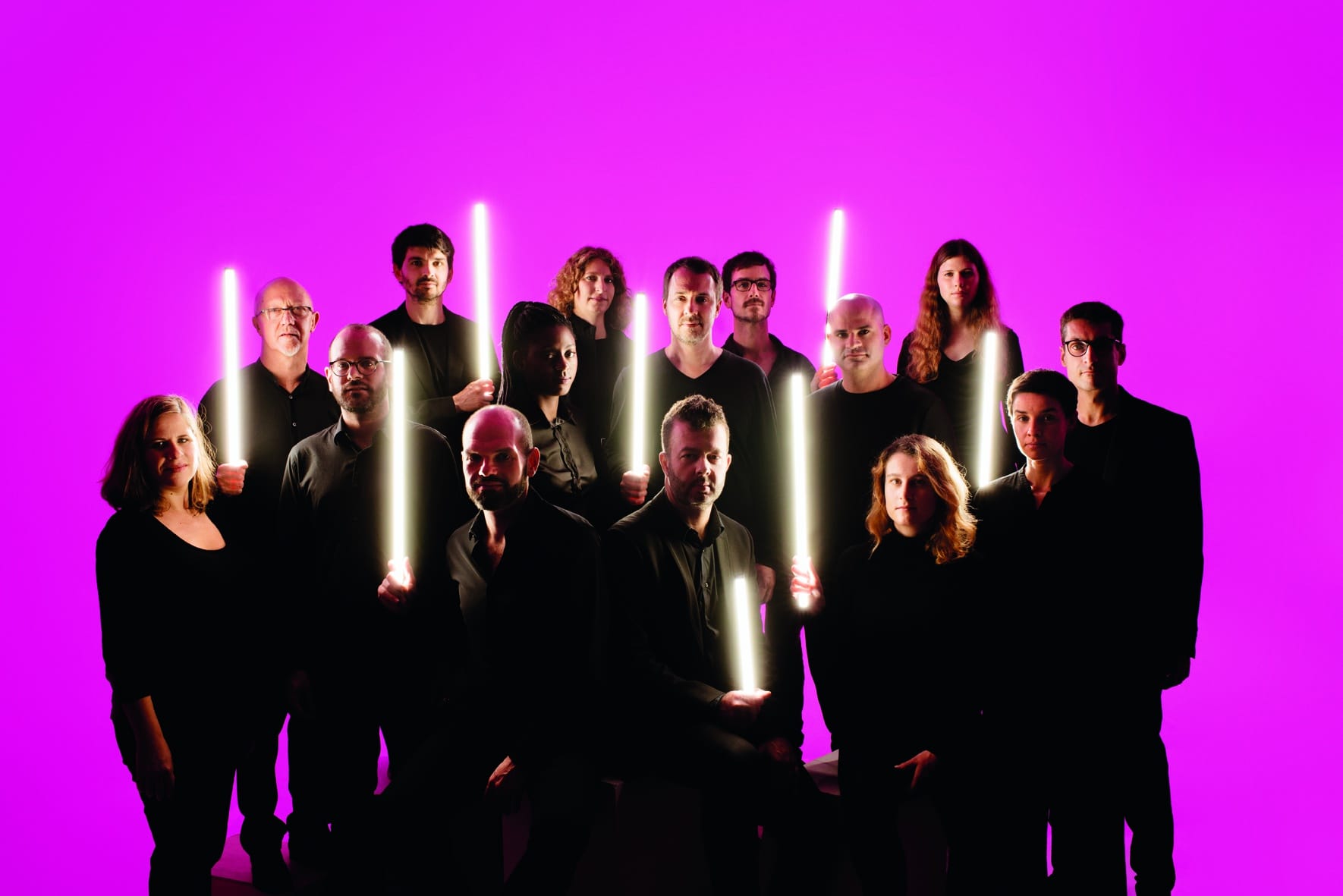 Line-up :
Frédéric Maurin: artistic direction, electric guitar
Fred Pallem: orchestration
Jean-Michel Couchet: alto and soprano saxophones
Léa Ciechelski: alto saxophone, flute
Julien Soro: tenor saxophone
Fabien Debellefontaine: tenor saxophone, flute
Guillaume Christophel: baritone saxophone
Fabien Norbert: trumpet, bugle
Sylvain Bardiau: trumpet
Mathilde Fèvre: horn
Daniel Zimmermann: trombone
Fanny Meteier: tuba
Benjamin Garson: electric guitar
Bruno Ruder: fender rhodes
Sylvain Daniel: electric bass
Rafaël Koerner: drums
Professional team :
Booking: Tiphanie Moreau, +33 (0)7 85 96 26 47
Production: Orchestre National de Jazz
Label: ONJ Records
Physical distributor: L'Autre Distribution
Digital Distributor: Idol
Orchestre National de Jazz (ONJ) – Dancing In Your Head(s)
About the project:
The ONJ celebrates the music of Ornette Coleman and artists in his entourage – from Julius Hemphill to Eric Dolphy via Tim Berne – in stunning, electrifying re-readings orchestrated by Fred Pallem. The first programme, a tribute to this major jazz figure, has a "let's party" spirit with the accent on groove and trance!
About Orchestre National de Jazz – Artistic director: Frédéric Maurin
Artistic director Frédéric Maurin
Appointed to lead the Orchestre National de Jazz [ONJ] for a four-year mandate (January 2019 – December 2022), composer and guitarist Frédéric Maurin inaugurates the 12th new chapter of the ONJ's artistic adventures with a wide-open, outward-looking project that has broadened the band's perspectives in reaching out to the inventiveness of numerous guests artists in association with composers, male and female, whose styles are totally singular. The ONJ's creations are to be presented by orchestras of different sizes and drawing on different generations, featuring musicians from both France and abroad. Frédéric Maurin follows the other musical and artistic directors who, through different projects undertaken since the birth of the orchestra in 1986, have chronicled the history of this unique 'institution' created at the initiative of the French Ministry of Culture.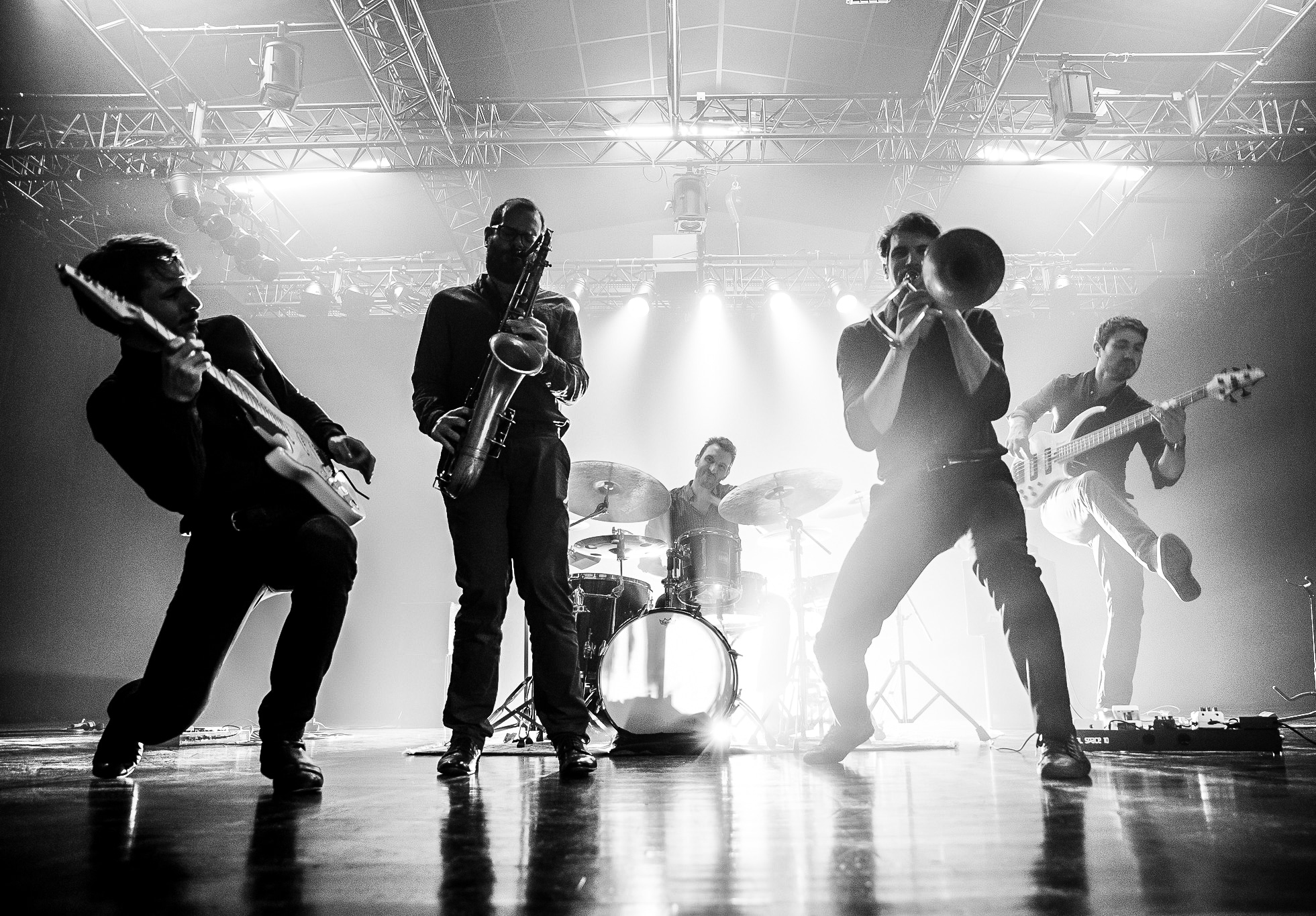 Line-up :
Stéphane Scharlé: drums, compositions
Edouard Séro-Guillaume: bass, keyboards
Julien Soro: saxophone, keyboards
Guillaume Nuss: electric trombone
Tam de Villiers: guitar (or Baptiste Ferrandis)
Professional team :
Artist: Stéphane Scharlé, + 33 (0) 6 67 92 50 20
Booking: Julie Cottier, + 33 (0) 6 44 10 55 24
Production: OZMA / La Compagnie Tangram
Label: Cristal Records and Berthold Records (for GSA)
Distribution: Sony Music Entertainment / Believe
Publishing: Cristal Publishing
OZMA – Hyperlapse
About the project:
'Hyperlapse' is a captivating and jubilant roadmap dedicated to the ten cities visited by the group during an incredible tour in 2018 which earned OZMA the distinction of being one of the most exported French artists along with Youn Sun Nah and Tigran Hamasyan («Succès Export 2018»). 56 concerts in 13 countries, from Europe and Africa to Asia, a year-long world tour which was overwhelming for the composer Stéphane Scharlé, and inspired this magnetic sound-fresco in ten stops.
'Hyperlapse' is an album that brushes up against the real, is impregnated with human encounters and cultural shocks the five acolytes were confronted with during this unusual year.
About OZMA:
Seven albums to their name, 450 concerts on 4 continents and in 39 countries and collaborative multidisciplinary projects with artists from all over the world – so many dialogues and generous exchanges that have continued to feed the work of the musicians of OZMA. Since 2001, OZMA have taken us on journeys, across continents but also musical styles, borrowing largely from rock grammar, traditional music and electronic landscapes, with a willingness to hear John Coltrane interacting with Rage Against The Machine, Ravi Shankar jamming with Pink Floyd, or Amon Tobin joining the fanfares of New Orleans … In addition to their singular jazz, OZMA have developed a real sensitivity for composing music to fit with images that has resulted in many photoconcerts.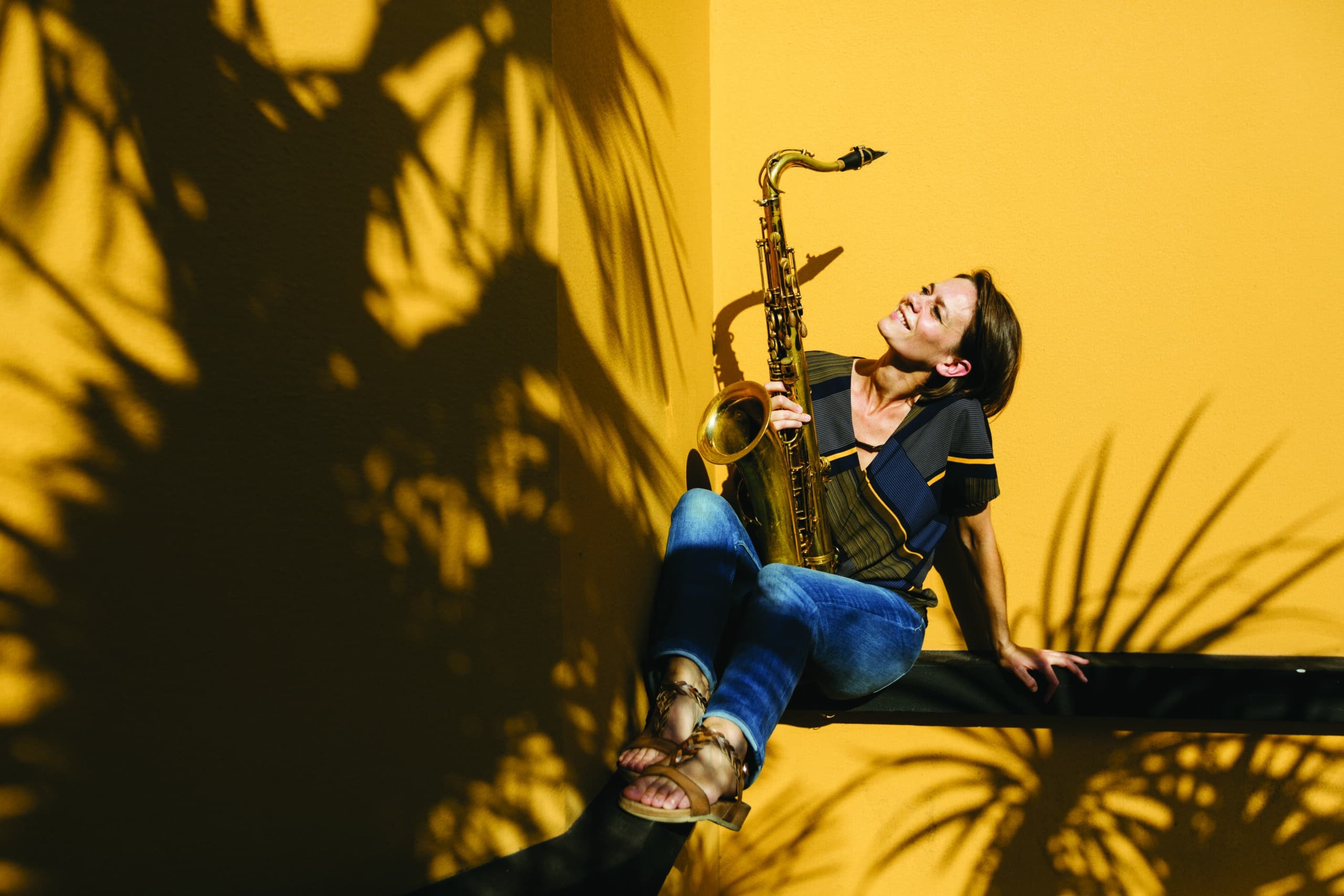 Line-up :
Sophie Alour: sax, flute
Abdallah Abozekry: saz and vocals
Damien Argentieri: piano
Donald Kontomanou: drums
Philippe Aerts: double bass
Professional team :
Booking : Anteprima productions, Reno di Matteo
Production : music from source
Label : music from source
Distribution : l'Autre Distribution / Idol
Sophie Alour – Joy
About the project:
"After returning to my roots with the album of jazz standards on 'Time for Love', I wanted more of a jump into the unknown for my next project . Enriching the musical sound palette with an oriental instrument like the oud forced us to take a new path, to find another language stripped of the formalities and codes of jazz and freed from the conventions and restrictions of that genre.
In fact this is the challenge that this project represents and which makes it so rewarding – It forces us to listen to ourselves and express ourselves in completely new ways, to put ourselves in tune with another universe. The meeting with Mohamed Abozekry was crucial because Mohamed is a real master of improvisation who, even if he does not have the same musical background, has a deep knowledge of music and a great technical mastery of his instrument. Surrounded by virtuoso drummer Donald Kontomanou, the excellence of double bass player Philippe Aerts, the exceptional pianist Damien Argentieri and with Wassim Halal on oriental percussion as guest, everything becomes possible
About Sophie Alour:
Sophie Alour, born in 1974, is a self-taught saxophonist . She has 6 albums to her name, all critically acclaimed, and she received the Django d'Or prize in 2007 for her 2nd album 'Uncaged'. Her previous album 'Time For Love', was nominated for the Victoires awards in 2018. In addition to her own group , Sophie has been part of Rhoda Scott's quartet for 15 years , plays regularly with American drummer Leon Parker, with Christophe Dal Sasso's big band, and she has also performed alongside Wynton Marsalis, Bireli Lagrène, Jeff Ballard, Ambrose Akimusire, Stephan Belmondo and many others.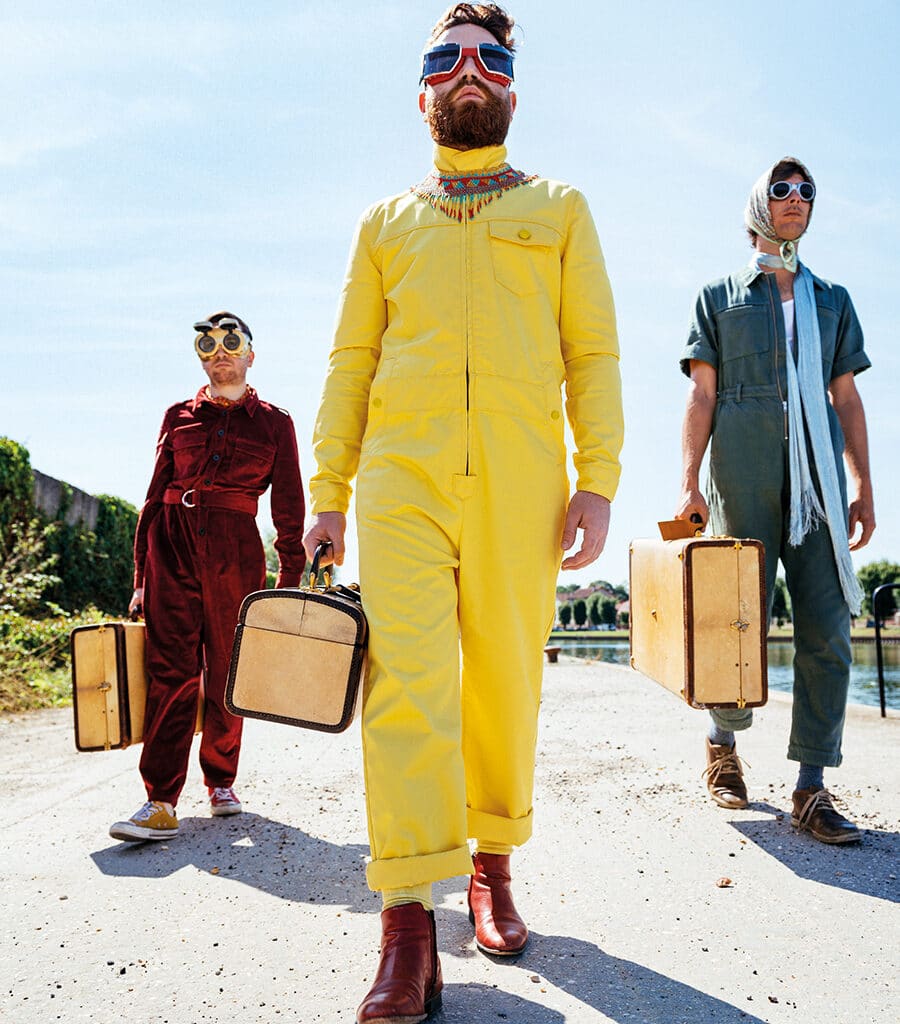 Line-up :
Théo Ceccaldi: violin
Valentin Ceccaldi: cello
Guillaume Aknine: guitar
Professional team :
Booking / Tour: Saudades, Jakob Saudades
Production: Brouhaha / Full Rhizome, Perline Feurtey
Label: Brouhaha / Full Rhizome
Distribution: L'Autre Distribution / Idol
Théo Ceccaldi – Django
Jazz musicians, especially French ones, cannot form a string trio without it bearing the influence of Django Reinhardt. The Théo Ceccaldi Trio, a skillful and dynamic group, couldn't avoid it either despite being used to exploring the most radical free improvisation.
They were discovered and supported by the queen of French free music, the great Joëlle Léandre, who was seduced by their youthful energy and she even featured on their second album a few years ago. With Théo Ceccaldi on violin, Valentin, his brother, on cello and Guillaume Aknine on guitar, this is no standard trio, combining a conceptual rigor with a wild creative freedom, regardless of the repertoire. The trio work with original compositions influenced by Reinhardt and revisit classics associated with the great gipsy guitarist. With its unorthodox orchestration (amplified guitar, cello…), the ensemble has shifted towards a new form of 'chamber jazz', skillfully going from a chaotic lyricism to an expressive energy while using all the expected attributes of gypsy jazz (rhythmic energy, melodic grandiosity) amplifying its virtues and modernising its stylistic traits. The Théo Ceccaldi Trio show the extent of their mastery and the absolute freedom of their inspiration by opening up new perspectives for this repertoire and presenting it in a more contemporary way.