Events
France @ c/o pop Festival 2022 (Cologne – 20/24 April)
c/o pop Festival 2022 is taking place in Cologne, Germany from Wednesday 20 April until Sunday 24 April. This year,  7 'Made-in-France' artists will perform showcases on site. Two networking sessions will be organised to foster meet-ups with French professionals.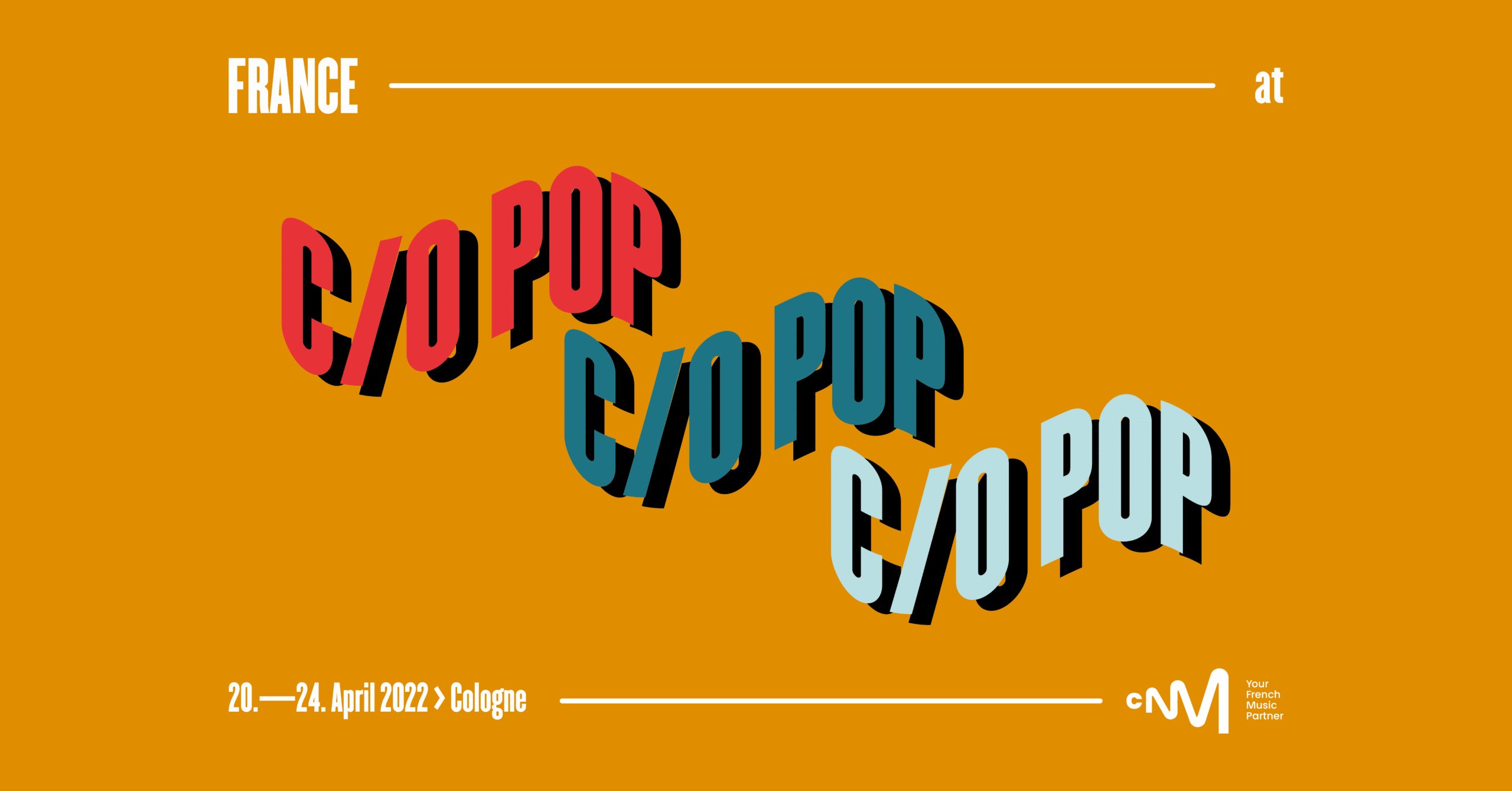 c/o pop: a festival and a convention.
c/o pop Festival has been launched in 2003. This year, it will take place from 20 to 24 April in Cologne. The festival is followed by a professional Convention from Thursday 21 until Friday 22 April.
In 2019, the latest on-site edition, the event brought together 30,000 festival-goers and a thousand professionals from 25 countries. In Germany, c/o pop marks the first meeting of the year for the music industry and associated sectors such as digital economy, film, television, game industry and advertising.
For the B2B convention, recurring themes are synchronisation and music supervision, streaming, music and video games, artists and brands, diversity issues, sustainable development and gender equity in the industry.
France @ c/o pop 2022
France will be represented at the c/o pop with about twenty French professionals attending and 7 'made-in-France' acts performing concerts and showcases. In addition, the CNM will organise two exclusive professional meetings.
The festival's French line-up:
As part of the festival's French line-up, made-in-France artists such as Eugénie (Faubourg26/Egni/Filature Management), Keep Dancing Inc (Persona Grata/Un Plan Simple/Silta), Atoem (Wart/I Love Creative Music Publishing), Glauque (Universal Music Publishing France), La Jungle (À tant rêver du roi/The Link Prod), Moise Turizer (Marsatac Agency/Lofish Rec) and Anais (Filature Publishing) will be performing during the four days of the festival.
French Artist Pitch
The CNM is organising a networking session entitled 'French Artist Pitch'. This reception enables the 7 acts' professional entourage to pitch each artist in front of about forty international professionals to find future export partners for their respective developments. The meeting will be followed by a "Petit apéro" reception courtesy of the French Institute in Cologne.
French German Sync Summit
Thursday 21 April will see the second physical edition of the French German Sync Summit, organised by the CNM in partnership with c/o pop.
10 French publishers and 10 German music supervisors will take part to a networking lunch for an exclusive time of exchange and meeting.
Under the moderation of Ralph Christoph, director of c/o pop Convention and Daniel Winkel from the CNM, French publishers will be able to exchange with German music supervisors from the film, TV, video game and advertising segments. Following a call for applications, representatives of the following French publishers have been selected to participate in the event:
22D Music Group,
Cristal Groupe/Cristal Publishing,
Grown Kid,
I love creative music publishing,
InFiné,
Kaa Production,
Savoir Faire,
The Link Publishing,
Tôt ou tard/Lili Louise Musique,
Wagram Stories/Wagram Publishing.
Contact
If you have any questions about c/o pop, please contact Daniel Winkel from CNM.